'Allo and happy Tuesday!
I haven't done a post like this in a while so I just want to say a huge thank you Chloe over at WritingtheBluesAway for our nomination!
Chloe is currently working on her first novel but spends her free time blogging about all things gaming, films and of course, reading! I honestly love her blog and believe that she is one of the sweetest and most supportive bloggers out there!
Please do go and have look at her blog, I promise you will not regret it!
If you're sat thinking, "But Chloe, what does the Real Neat Blog Award entail?", fear not!
Here are the rules:
Real Neat Blog Award Rules:
– Display the Award Logo
– Thank you nominator and share a link to their page
– Answer your nominator's questions
– Nominate seven to 10 other bloggers
– Ask them seven questions
Easy enough right? Cool, let's go!
Chloe's Questions:
1. What's your guilty pleasure?
Napping and Nutella.
I just really love being in bed, but I don't think I've ever woken up from a nap without feeling guilty.
Nutella wise, I don't so much feel guilty about sitting with a spoon and eating from the jar, but I seem to be judged whenever I admit this to someone.
I guess those who judge me have never really experienced true happiness …
2. What's your favourite season?
Spring!
The days are longer, the evenings are lighter and the planet begins to welcome back a little bit of colour. What's not to love?
3. What places are on your travel bucket list?
I mean, I should start by saying A LOT.
If I was to pick just a few, the immediate ones which jump out at me are Denmark, Thailand and Russia.
Denmark:
I really want to go to Copenhagen to see the Little Mermaid statue by Edvard Eriksen.
Obviously I'm a massive Disney fan, but I'm also a literature graduate. Fairy Tales are one of my favourite genres and I would love to combine my love for travelling with my love of literature.
Thailand:
Thailand is beautiful and I think it would be incredible to explore, but the most stereotypical thing I will say today is that I want to visit an elephant sanctuary!
Russia:
I am obsessed with the history of the Romanov family and am desperate to visit The Winter Palace in St. Petersburg's. There is so much history surrounding the palace, I would just love to visit and take a step back through time in the Hermitage Museum.
4. If you had to dye your hair another colour, which would you choose?
Fun fact, I've never actually dyed my hair. Highlighted and hated, but never fully dyed.
I really love baby pink or lilac hair, but I don't think I could quite pull that look off.
Instead I'd say maybe an auburny kind of colour?
5. What item in your wardrobe is your favourite?
I'd probably say my blue and mustard checked trousers from Next. They're my go to Autumn outfit, but they also work wonderfully in spring. I seem to have an array of tops I can style them with meaning they're great for both dressing up and dressing down.
Saying that I'm also in love with a grey Topshop skirt I've just bought from Depop!
Sorry, I don't seem to have a decent photo of either!
6. If you could only watch one film for the rest of your life, what would it be?
Oh, are you sure I can only pick one?
I'm going go with Mary Poppins. I don't think I'll ever get bored of Queen Julie's sass or King Dick's facial expressions.
Also the multitude of Poppins themed in -jokes which have come about this year will keep me laughing for hours.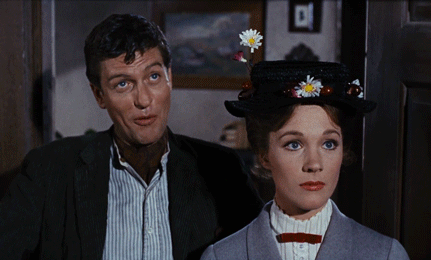 7. What is your favourite blog post that you have written?
My favourite blog post is without a doubt my interview with West End Queen Vicki Manser. Vicki's answers were beautifully honest and so much fun to read.
If you would like to read this post click here.
My Questions:
1. If you could have tea with anybody from history, who would you pick and why?
2. Are you on Instagram? Share your link and share the link to one other of your favourite channels. Why did you choose this one?
3. Why did you start blogging?
4. What is your go to song at the moment?
5. Have you ever re-read a book? What was it and why did you return to it?
6. You're stranded on a desert island. What's the first thing you do?
7. If you could give one message to your younger self, what would you say?
My nominees:
Amy
Rachel
Becky
Jess
UnicornNiqui
Chocoviv
Norma
These bloggers are all beautiful, kind and simply wonderful. Please do go and check them out!
Thank you again to Chloe for our nomination, you're the best!
Lots of love,
(the other) Chloe x
Images and Gifs courtesy of Google Images.