It's June and you know what that means … it's Pride month!
It's 2019 and while yes, we've come such a long way, we still seem to have an incredibly long way left to go. Love is love and we should be celebrating it in whatever shape or form it may come in.
In the words of Queen Elsa "Goodbye to dark and fear, lets fill this world with light and love".
To celebrate the month of Pride we thought we'd take a look at just a few of our favourite shows which have been celebrating the LGBTQ+ community over the years.
Kinky Boots:
Based on the 2005 film of the same name, Kinky Boots tells the story of Charlie Price as he works to save his father's failing shoe factory. When faced with defeat Charlie hires a new design consultant in the shape of Lola, a fabulous drag queen who knows how to pack a punch. Together can Charlie and Lola overcome discrimination, expectations and most importantly, create the fiercest boots in town?
The Price and Son factory doors closed in the West End earlier this year but the production can still be found touring the UK and Ireland. For more information or to book tickets click here.
Everybody's Talking About Jamie:

Based on the true story of Jamie New, Everybody's Talking About Jamie tells the story of a 16 year old boy from Sheffield who did the unthinkable, and dared to be himself.
"Jamie New is sixteen and lives on a council estate in Sheffield. Jamie doesn't quite fit in. Jamie is terrified about the future. Jamie is going to be a sensation".
Everybody's Talking About Jamie is currently playing at the Apollo Theatre in London.
The show will also be heading out on a UK Tour later this year. For more information or to book tickets click here.
The Prom:
With music from Matthew Sklar and lyrics from Chad Beguelin The Prom tells the story of four "long-ago famous" Broadway actors as they travel to the fictional conservative town of Edgewater, Indiana, after reading about a lesbian student who was not allowed to bring her girlfriend to the high school prom. They want to help, but most importantly they want to soak up the good press and be relevant again.
The Prom premiered on Broadway last October and can currently be found at the Longacre Theatre. For more information or to book tickets click here.
RENT:
Struggling with AIDS, drug addiction, poverty, homelessness, sexuality and gender identity, RENT is one of the most iconic musicals of our era. Of course it has a legendary score, but more importantly it offers audiences a brutally honest look into the late eighties, early nineties New York. It may be a musical but this is a story which truly tackles some of the most important and heartbreaking elements of modern life.
RENT originally began it life as a workshop in 1993. Since it has become a world-wide phenomenon with productions all across the globe, a film adaptation and most recently a live TV-adaptation. Which adaptation is your favourite?
Falsettos:
Falsettos is a "hilarious and poignant look at a modern family revolving around the life of a gay man, Marvin, his wife, his lover, his soon to be bar mitzvahed son, their psychiatrist and the lesbian neighbours".
Falsettos is currently in the final stretch of it's US tour but will be coming to The Other Palace in London later this year. For more information on the US tour click here or for information on the UK run click here.
The Color Purple:

"The Color Purple is the inspiring musical, based on the Pulitzer prize-winning novel by Alice Walker, the classic hit movie and the Tony® Award-winning production on Broadway.
This unforgettable story told over the course of 40 years follows tormented heroine Celie, as she journeys through joy, despair, anguish and hope in her own personal awakening to discover her unique voice in the world."
A new production of The Color Purple staring T'Shan Williams will open at the Curve Theatre in Leicester later this month before heading to the Birmingham Hippodrome in July.
For more information or tickets for either venue please see the below links:
Leicester Curve
Birmingham Hippodrome
Hedwig and the Angry Inch:
Hedwig and the Angry Inch follows genderqueer rockstar Hedwig on her journey to self-acceptance. Hedwig's story offers audiences an honest look into problems people faced before trans lives were acknowledged and accepted by society and health care professionals.
The production originally open Off-Broadway at the Jane Street Theatre where it ran for 857 performances. The show has since been seen all across the world and was adapted into a film in 2001 before heading to Broadway in 2014.
Tootsies:
Based on the 1982 comedy film of the same name, Tootsie tells the story of Michael Dorsey, a talented but volatile actor who's gained a reputation of being difficult to work with. While struggling to find work Michael reinvents himself as a woman and takes matters into his own hands.
Tootsie began its Broadway previews in March 2019 and have just won the Tony Awards for Best Book of a Musical (Robert Horn) and Best Leading Actor in a Musical (Santino Fontana).
For more information or to book tickets please click here.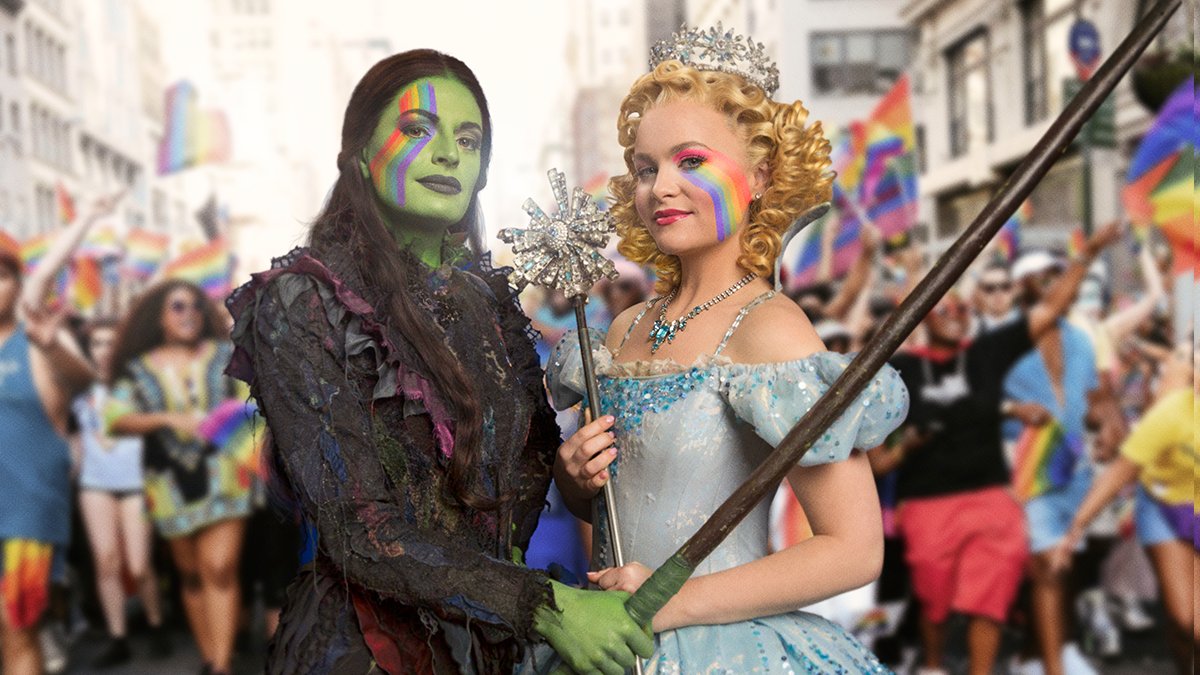 I know I've not included Wicked in this post but I just really love this photo!
Of course these are just a few of the amazing shows celebrating the LGBTQ+ community.
If you get the chance to see any of these amazing productions during this month of Pride we'd love to hear your thoughts! To join in with the conversation you can comment below, Tweet us or head to our Facebook page.
However you're celebrating this month we hope you have the best time. Stay safe and stay happy! x
Images courtesy of Google Images.